TEN COMMANDMENTS GAME
The Squeeze 10 Commandments™ Game is the only game of its kind that teaches kids the foundations of the Ten Commandments. Whether you're looking for a unique gift, or a study aid for your religious education classroom, or a fun way to teach your child, our game makes learning the Ten Commandments approachable, fun and accessible to children ages 3 and up.
Our game is ideal for kids in kindergarten through fifth grade who are young enough to grasp the concept.
Our
game
is a great gift for Christmas, Hanukkah, communion, confirmation and other occasions.

Our game is perfect for religious school education classes, Sunday school and religious physical education classes.

There's no other interactive, engaging game in the world like ours. See for yourself!

Our game allows you to teach your students or loved ones in your own preferred words and order as we know there are different orders and words for all types of faiths and religions.

Our game comes with 10 recording tablets to teach your children and students in a fun, hands-on and interactive way.

There are multiple ways you can choose to play. Try Captain Commandment, Capture the Commandments, Hot Commandment, Telephone Commandment, Voice Over Captain, or you can create your own version!
Learn the Ten Commandments With Our Creative Games for Youth
Looking for Bible study games that get kids engaged and inspired to learn God's word? The Squeeze 10 Commandments™ Game is a new, exciting game that teaches kids the holy standards for living! Whether it's a Sunday school class or holiday festivities, kids will love the opportunity to recite, record and learn the fundamentals of our basic tenants of living.
The Ten Commandments form the foundation of Israel's covenant with God. After God delivered his people from slavery in Egypt, he called them to be fully devoted to Him and Him alone. Israel could only fulfill its role as a holy nation by obeying God's laws—the Ten Commandments—as he communicated them to Moses. It's important for every young child to learn this story, and to become familiar with the laws as they were delivered and as they exist today. The Squeeze 10 Commandments™ Game teaches children to love the ten and live the promise.
The Ten Commandments apply to people of all ages, even little ones.
Our innovative religious game for children K-5 is a hands-on way to teach them about God's laws, featuring the ability for kids to record themselves reciting, learning and celebrating the Ten Commandments. Reach out to us today to learn more about our game and how it helps young minds understand and retain God's Commandments.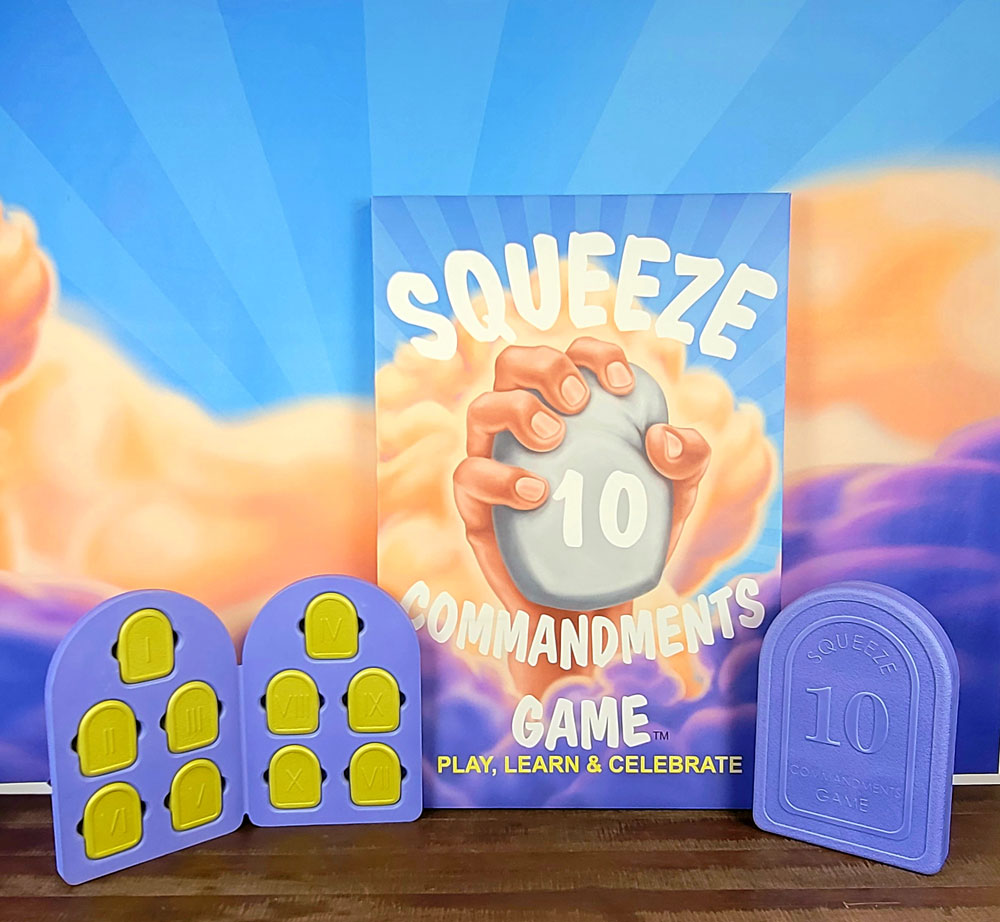 Helping Kids Appreciate the Ten Commandments
The Squeeze 10 Commandments™ Game gets kids excited about learning the Ten Commandments in Torrington, CT. Contact us today to learn more about our fun, unique game and help give young children the guidance and education they need to learn the most important laws of life, so they can live the promise!